Thursday, February 23, 2012 (2:57 am)
By Joseph DeCaro, Worthy News Correspondent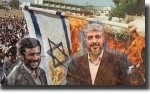 WASHINGTON, D.C. (Worthy News)– Suspected Iranian nationals used portable radios to hide bombs that Israeli authorities claim were intended for use against Jewish targets in Bangkok.
According to ABC News, the radios were equipped with magnets and packed with explosives and ball bearing projectiles.
According to local authorities, a bomb exploded in the Bangkok house where Saeid Moradi and two other Iranians were staying. Immediately thereafter, Moradi attempted to hail a cab, but when the driver refused to pick him up, he reportedly threw a bomb, injuring some bystanders.
When approached by Thai police, Moradi reportedly threw yet another bomb, but lost both legs when it "boomeranged" back at him and exploded; Moradi was arrested and what's left of him remains in custody.
After the attack, authorities discovered two unexploded bombs in the house where the Iranians were staying; more than one pound of military grade explosive was recovered from a bomb designed to be detonated with a five-second hand grenade fuse.
Israeli authorities said the bomb was similar to those used in attacks last week in the Republic of Georgia and India; a magnetic bomb was discovered attached to the car of an Israeli diplomat in Tbilisi, Georgia and another explosive device was believed to be responsible for the attack that injured the wife of an Israeli diplomat, her driver and two other motorists in New Delhi.
Iran officially denied any connection to the arrests in Bangkok as well as last week's attacks.
The head of Israeli's internal security service, Yoram Cohen, recently said that Iran was trying to hit Israeli targets in retaliation for what it believes were Israeli attacks that killed several scientists of its nuclear program.
Copyright 1999-2011 Worthy News. All rights reserved.