Friday, June 29, 2012 (10:29 am)
Posted in: Christian Persecution, Christian Persecution - Africa, Nigeria
By Joseph DeCaro, Worthy News Correspondent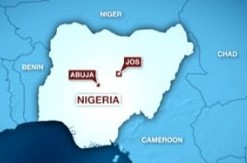 ABUJA, NIGERIA (Worthy News)– The militant Islamist group Boko Haram recently declared war on the Nigerian state and its Christians, vowing to attack them both until it establishes an Islamic state in place of the current secular government.
This month alone, gunmen opened fire on the congregation inside a church in Borno state, killing one and injuring three; later that same day, a suicide bomber detonated a car bomb next to an evangelical church in Jos that collapsed the entire structure, critically injuring 62; other suicide car bombings killed 18 and injured more than 40 near two churches in Bauchi state.
However, despite the danger, Nigeria's Christians continue to attend services.
"I always sense the fear in the atmosphere during Sunday services," said Pastor Abraham Ekeneh, "but we still don't relent. We cannot stop attending Sunday services because if we do, it means we have helped them to achieve their objective."
Sign up for our Worthy Briefs! IT'S FREE!!! Your information is completely confidential! We HATE SPAM too!

Read some of our recent Worthy Briefs