Monday, July 9, 2012 (2:35 am)
By Stefan J. Bos, Worthy News Chief International Correspondent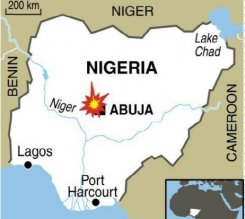 ABUJA, NIGERIA (Worthy News)– Nigerian authorities said Sunday, July 8 that dozens of people have been killed after suspected Muslim herdsmen armed with guns and machetes stormed Christian villages, while missionaries claimed at least 50 pastors and missionary leaders were killed in separate violence.
The attacks rocked Christian villages near the city of Jos in central Nigeria's Plateau State since Saturday, July 8, said Mustapha Salisu, spokesman for a special taskforce made up of policemen and soldiers deployed in the area to curb years of violence.
Officials said that as many as 37 people died in the raids and reprisal attacks that followed.
The Associated Press (AP) news agency quoted Mark Lipdo, who runs a Christian advocacy group known as the Stefanos Foundation, as saying that 13 villages have been attacked. He said they were all Christian.
PASTORS, MISSIONARIES KILLED
The latest clashes came on the heels of reports obtained by Worthy News from missionary workers that as over 50 pastors and missionary leaders were "murdered so far" before the latest clashes occurred.
"It is heartbreaking to think of the suffering these native Nigerian missionaries are enduring so that those who are in darkness will hear the gospel of the salvation provided by our Lord Jesus Christ," said Rae Burnett, Africa Director for Christian Aid Mission (CAM).
She told Worthy News that several native missionaries and other Christians have been forced to flee northern and other areas of Nigeria where anti-Christian attacks have been carried out, or encouraged, by militant group Boko Haram ('Western education is a sin'), which wants to establish a state based on Islamic law.
Copyright 1999-2011 Worthy News. All rights reserved.