Monday, September 17, 2012 (2:40 am)
By Joseph DeCaro, Worthy News Correspondent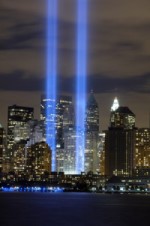 WASHINGTON D.C. (Worthy News)– Although America is on alert against terrorists every Sept. 11, on this anniversary, the threats are now coming from domestic atheists after the Christian Cross as well as Muslim clerics in Cairo burning Bibles.
Atheists and Muslims: strange bedfellows indeed.
Drawing first blood, the American Atheists Foundation filed a lawsuit complaining of unequal representation regarding the two steel beams in the shape of a cross found in the rubble of Ground Zero. The cross — which was later added to the World Trade Center Memorial — can adversely affects atheists who see it on display, resulting in everything from headaches to mental anguish, at least according to David Silverman, president of American Atheists.
"The lawsuit is further evidence of the war on Christianity in America," said Liberty Counsel Chairman Mat Staver. "The 9/11 cross survived the terrorist attack by Muslim extremists, and it will survive the cultural attack by radical secularists."
On 9/11/12, other Muslim extremists held a rally in front of the American Embassy in Cairo where cleric Abu Islam burnt a Bible before thousands of his fellow believers who applauded and cheered.
According to Bretbart.com, Islam then took another Bible and said: "This is the book the dog Terry (Jones) believes in, as well as those dogs with him, the Egyptian Christians in America … to all the cross worshipers around the world, we will not keep quiet."
When it comes to the Cross of Christ, silence poses no problem for Islamists like Abu Islam, nor are lawsuits a burden for American Atheists.
Who knew atheists and Islamists had so much in common?
Copyright 1999-2011 Worthy News. All rights reserved.