Wednesday, August 28, 2013 (3:38 am)
Posted in: Christian Persecution, Christian Persecution - Africa, Nigeria
By Joseph DeCaro, Worthy News Correspondent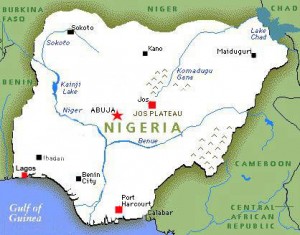 JOS, NIGERIA (Worthy News)– Recently a mob of Muslims injured members of an Anglican church in Nasarawa state, Nigeria, all because of a minor dispute, according to Morning Star news.
Pastors, elders and choir members of the St. James Anglican Cathedral were injured as they met for study and worship; they received cuts on their heads and elsewhere on their persons after about 30 Muslims attacked them with chains, wooden clubs and knives.
The cathedral's Rev. Isaac Onwusongaonye told Morning Star News that he and six other church leaders were meeting for Bible study; as the choir was about to rehearse, a Muslim girl began arguing with a young man in charge of the church-run water borehole.
Apparently the girl had purchased water worth 20 naira (1 cent US), but didn't pay, Onwusongaonye said. Later the girl's sister came and bought water worth 5 naira and paid 20 naira, but the water seller told her to get the change from her sister who had bought water earlier, but still hadn't paid for it.
The girl protested and then told her mother, who came to the cathedral and threatened that her son would destroy it; a sexton then gave the mother 20 naira, but after she accepted it, she still made good her threat and called her son.
When the son arrived, security guards prevented him from entering the church grounds.
"As we resumed our Bible study, all we saw was a mob coming into the church through the main gate," said Onwusongaonye. "This notorious boy went and called his gang, mostly butchers. They came with knives, clubs, motorcycle chains, iron poles, wood, etc. As they were terrorizing the church members, their fellow Muslim youths playing football at the field adjacent to the church jumped in through the fence and helped the gang. This gang beat the security men at the gate mercilessly with wood, chain and iron."
Onwusongaonye said that timely intervention by the police saved the cathedral.
"After some minutes of terrorism, the boys left – some of them were asking why they did not destroy the church, especially the window glass," Onwusongaonye said. "So they later regrouped to come back for total destruction, but with the quick intervention of police from A Division, the boys ran as they saw the police van."
After the mob fled, police detained the mother, releasing her only after the family produced her son, who was promptly arrested; the case is still under investigation.
Nasarawa state is located in Nigeria's middle belt between its majority Muslim north and Christian south. Christians comprise 51 percent of Nigeria's population of 158.2 million and Muslims 45 percent, according to Operation World.
Sign up for our Worthy Briefs! IT'S FREE!!! Your information is completely confidential! We HATE SPAM too!

Read some of our recent Worthy Briefs