Monday, August 20, 2012 (3:15 am)
Posted in: Christian Persecution, Christian Persecution - Middle East, Syria
By Joseph DeCaro, Worthy News Correspondent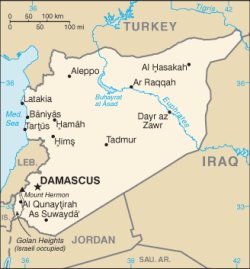 WASHINGTON D.C. (Worthy News)– A U.S. Congressman has recently introduced a resolution to the House of Representatives that would protect Christians and other minorities in war-torn Syria.
Gus Bilirakis, R-Fla., introduced H.R. 763, condemning the targeting of religious minorities in the face of escalating persecution during Syria's civil war. The Resolution calls for the Secretary of State to protect vulnerable minorities by ensuring that any future U.S aid would be predicated on Syria's obligation to protect its population regardless of religious affiliation.
"The violence in Syria has affected the entire country, with accusations of torture and extrajudicial killings committed by both the Assad government and rebel forces," said Bilirakis. "Members of religious minority communities including Christians, Ezidis, and Mandaeans are caught in the middle of this violence. These communities lack a means to protect themselves and are susceptible to pressure from all sides of the conflict, as well as targeted retaliatory attacks and displacements."
Religious minority groups have been targeted by Al Qaeda-affiliated rebels and other Islamists, resulting in the execution of a Christian family in Bab Tuma, the exodus of thousands of Christians from Qusayr after a rebel ultimatum to leave the city and the evacuation of 63 Christians from Homs.
Greek Orthodox priest Maximos al-Jamal said rebels kept Christians in Homs as a bargaining chip against approaching government forces.
"Gunmen told the besieged people that if (they) go out of these areas, (they) will die," he said.
Aidan Clay, International Christian Concern Regional Manager for the Middle East, said that while ICC condemns the Syrian government's assaults on protesters, it's also concerned about the targeting of Christian communities by Islamists of the Free Syrian Army and other rebel forces.
"The longer the civil war carries on in Syria," Clay said, "the more jihadists—including those that were fighting with Al Qaeda against U.S. forces in Iraq—will join the opposition against the regime. Islamic extremists are hijacking the Syrian revolution and are quickly gaining control. While there is no easy political solution to the Syrian conflict, it must be a U.S. priority to protect minorities. We call on U.S. policymakers and legislators to support H.R. 763, which condemns the targeting of vulnerable religious groups in Syria and ensures that policies will safeguard these communities. Time is of the essence. For the U.S. government to stand by and do nothing is not an option. The future of Syria's ancient Christian community is at stake."
Sign up for our Worthy Briefs! IT'S FREE!!! Your information is completely confidential! We HATE SPAM too!

Read some of our recent Worthy Briefs