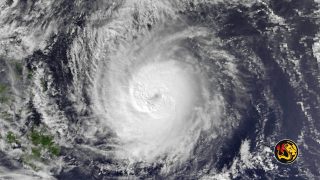 By Stefan J. Bos, Special Correspondent Worthy News
(Worthy News) – Scores of people have died, hundreds of thousands are homeless, and millions face flooding and power shortages in India and Bangladesh after one of the region's fiercest cyclones in a decade.
Cyclone Amphan killed at least 84 people as it lashed coastal areas in both nations, which already battles a coronavirus pandemic, authorities said.
Wednesday's super cyclone brought heavy rain, a battering storm surge, and sustained winds of 170 kilometers (105 miles) per hour and gusting up to 190 kilometers (118 miles) per hour.
In the aftermath of the storm, a massive clean up was underway Thursday as the cyclone flattened houses, uprooted trees, blew off roofs and toppled electricity pylons.
It also wrecked shrimp farms that are vital to the local economy. The United Nations office in Bangladesh says some 10 million people were affected, and about 500,000 people may have lost their homes.
But despite the destruction, the death toll was far lower than the many thousands killed in previous cyclones. Experts said improved weather forecasting and better response plans contributed to the lower death toll.
However, social distancing measures related to a coronavirus outbreak were complicating aid efforts in, for instance, the Indian city of Kolkata, home to more than 14 million people.
Large portions of the metropolis and its suburbs were underwater, including the city's main airport. "It feels like a dystopian Jurassic Park of sorts," said Shuli Ghosh, who runs a cafe in Kolkata.
"The roofs of many homes have flown away, and the streets are waterlogged," Ghosh told The Associated Press agency. Similar devastation was witnessed in Bangladesh.
Villagers said there was nothing left as they woke up to dangling electricity wires, waterlogged streets, and entirely uprooted forests.
Copyright 1999-2022 Worthy News. All rights reserved.
If you are interested in articles produced by Worthy News, please check out our FREE sydication service available to churches or online Christian ministries. To find out more, visit
Worthy Plugins.