Wednesday, February 17, 2021 |
Tag Cloud
Tags:
Barack Obama
,
Cancer
,
Conservative
,
Media
,
Missouri
,
News
,
Republican
,
Trump
,
Twitter
,
War
,
Worthy News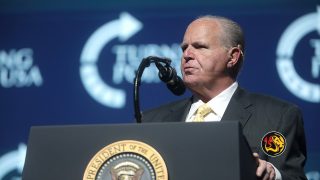 By Stefan J. Bos, Chief International Correspondent Worthy News
(Worthy News) – Rush Limbaugh, the conservative talk show host who last year was awarded the Medal of Freedom by President Donald J. Trump, has died at the age of 70. The cigar-smoking personality, who by many accounts saved American talk radio, passed away after losing his battle against lung cancer. His wife confirmed his death Wednesday.
Limbaugh was controversial but also seen as an inspiration for conservatives.
A native of Cape Girardeau, Missouri, Limbaugh found success as a pioneer in radio. His nationally syndicated "The Rush Limbaugh Show" launched in 1988 with a heavy focus on conservative politics.
There was an outpouring of support on social media Wednesday after the news of his death.
"No words … I just got news the Rush Limbaugh has passed away, " said Glenn Beck, the conservative political commentator. "Thanks, Rush, for all you taught, gave, and were. A hero to many. An icon. A patriot. A revolutionary that saved radio", he added on social networking site Twitter. "Heaven's gain, our loss, " he wrote.
For more than two decades, starting in the late 1980s, Limbaugh dominated the airwaves. He inspired a generation of conservative talk show hosts and politicians.
Last year, Limbaugh, a cigar aficionado who long defended tobacco use, told his audience that he had been diagnosed with advanced lung cancer.
SMALL TOKEN
One night later, then-President Trump broke with tradition and bestowed on him the Presidential Medal of Freedom. Trump gave the nation's highest civilian honor during the State of the Union address. "He is the greatest fighter that you will ever meet," Trump said, looking towards an emotional Limbaugh.
"It was a small token on behalf of the millions of people," said former Vice President Mike Pence, who himself hosted a radio show. He told Fox News that it was "an honor" to know Limbaugh. Pence, a devoted Christian, said he is praying for you, the Limbaugh family. "The Bible says that the Lord is with the brokenhearted."
Limbaugh received the Presidential Medal of Freedom after years of often turbulent radio shows launched nationally during the presidency of his first hero, Ronald Reagan. And,?Limbaugh was heard regularly by as many as 15 million Americans.
That following and his drumbeat criticisms of former President Barack Obama for eight years elevated him to set the tone among conservative Republicans. He would later become one of former President Trump's most outspoken supporters.
His wife, Kathryn Limbaugh, who announced his death Wednesday on his radio show, told his millions of listeners that he loved them.
"I like you, very much wish Rush was behind this golden microphone right now welcoming you to another exceptional three hours of broadcasting," she said. "For over 32 years, Rush has cherished you, his loyal audience, and always looked forward to every single show. It is with profound sadness I must share with you directly that our beloved Rush, my wonderful husband, passed away this morning due to complications from lung cancer."
She added: "As so many of you know, losing a loved one is terribly difficult. Even more so when that loved one is larger than life. Rush will forever be the greatest of all time."
"GENTLE GIANT"
Kathryn Limbaugh recalled her husband as "an extraordinary man." He was, she said, "A gentle giant. Brilliant, quick-witted, genuinely kind, extremely generous, passionate, courageous, and the hardest-working person I know."
She reflected what Limbaugh said when he opened up his final broadcast of 2020 by thanking his listeners and supporters for supporting him throughout his career and his health struggle.
"My point in all of this today is gratitude," he said at the time. "My point in all of this is to say thanks and tell everybody involved how much I love you from the bottom of a sizable and growing and still-beating heart."
Limbaugh was known for his confrontational and blustering on-air persona. But friends and family widely praised him for his kindness to others when not behind a microphone.
"Despite being one of the most recognized, powerful people in the world, Rush never let the success change his core or beliefs," Kathryn Limbaugh said. "He was polite and respectful to everyone he met. Even most recently, when he was not feeling well in the hospital, he was so appreciative to every single doctor and nurse and custodian."
Limbaugh will also be remembered as the man who single-handedly revolutionized the medium of talk radio, turning it into fertile ground for conservative opinion-makers who followed and will follow his example.
Copyright 1999-2022 Worthy News. All rights reserved.
If you are interested in articles produced by Worthy News, please check out our FREE sydication service available to churches or online Christian ministries. To find out more, visit
Worthy Plugins.
Tag Cloud
Tags:
Barack Obama
,
Cancer
,
Conservative
,
Media
,
Missouri
,
News
,
Republican
,
Trump
,
Twitter
,
War
,
Worthy News