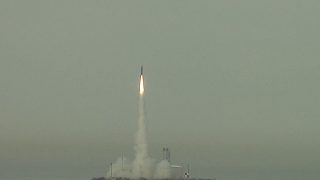 (Worthy News) – Amid tensions with Iran and the ongoing volatility of the Middle East, Israel and the US are developing the Arrow 4 upgraded generation of anti-ballistic missiles that are central to Israel's defense system, the Times of Israel reports. The Arrow 4 generation is expected to replace the Arrow 2 ballistic missiles in the next 10 years.
The Arrow missiles are part of Israel's multi-faceted system, which includes powerful radar, the Iron Dome anti-rocket system, the Arrow 2, and the Arrow 3, which became operational in 2017, the Times of Israel said.
Announcing the Arrow 4 program Thursday, Israel's Defense Minister Benny Gantz said: "The defense establishment is working round the clock to shield Israel's skies from ballistic threats." Moreover, Gantz said, the Arrow 4 program "will bring a technological and operational leap to the future battlefield."
In a statement, Moshe Patel, head of the Israeli Missile Defense Organization said: "Arrow 4 will have extraordinary flight and interception capabilities, to ensure Israel will remain one step ahead of the enemy."
Speaking from the US perspective, Vice Admiral Jon Hill, director of the US Missile Defense Agency, said in a statement that the Arrow project "expresses the United States' commitment to assist the State of Israel in strengthening its national defense system against the missile threat."
Copyright 1999-2022 Worthy News. All rights reserved.
If you are interested in articles produced by Worthy News, please check out our FREE sydication service available to churches or online Christian ministries. To find out more, visit
Worthy Plugins.