Sunday, March 7, 2021 |
Tag Cloud
Tags:
Christian
,
Faith
,
heart
,
Iraq
,
Middle East
,
Muslim
,
News
,
Pope Francis
,
religion
,
Terrorism
,
War
,
Worthy News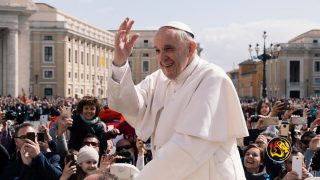 (Worthy News) -Pope Francis has addressed an interfaith gathering of Iraq's religious and ethnic groups in Ur, said to be the birthplace of Abraham, the common patriarch for Jews, Christians and Muslims. He drove home the need for respect and unity, and he used the opportunity to condemn violent religious extremism.
Pope Francis traveled to the ruins of the ancient city of Ur, considered the cradle of civilization, to remind people that what binds them is more powerful than what divides. Faithful from the Christian, Muslim, Yazidi and Mandean communities were present Saturday. The pope reinforced his call for inter-religious tolerance and fraternity during the first-ever papal visit to Iraq, where religious and ethnic divisions and conflict have torn apart the social fabric for decades.
The pontiff said that all of Iraq's communities have suffered too long from terrorism and war. "Hostility, extremism and violence are not born of a religious heart: They are betrayals of religion," he said. His remarks in Italian were translated into English. [ Source: VOA News (Read More…) ]
Fair Use Notice:This site contains copyrighted material the use of which has not always been specifically authorized by the copyright owner. We are making such material available in our efforts to advance understanding of environmental, political, human rights, economic, democracy, scientific, and social justice issues, etc. We believe this constitutes a 'fair use' of any such copyrighted material as provided for in section 107 of the US Copyright Law. In accordance with Title 17 U.S.C. Section 107, the material on this site is distributed without profit to those who have expressed a prior interest in receiving the included information for research and educational purposes. For more information go to: http://www.law.cornell.edu/uscode/17/107.shtml. If you wish to use copyrighted material from this site for purposes of your own that go beyond 'fair use', you must obtain permission from the copyright owner.
Tag Cloud
Tags:
Christian
,
Faith
,
heart
,
Iraq
,
Middle East
,
Muslim
,
News
,
Pope Francis
,
religion
,
Terrorism
,
War
,
Worthy News