Friday, May 14, 2021 |
Tag Cloud
Tags:
Gaza Strip
,
Hamas
,
IDF
,
Israel
,
Media
,
Military
,
News
,
PLO
,
Worthy News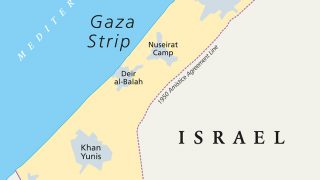 By Stefan J. Bos, Chief International Correspondent Worthy News
(Worthy News) – Israel faked a massive ground offensive into the Gaza Strip to make Hamas group militants there scramble for cover in a vast tunnel network, Israel's army clarified Friday.
With Hamas members hiding beneath the Palestinian enclave, some 160 Israeli fighter jets reportedly focused on destroying the underground city with the fighters inside.
The planes dropped 450 bombs with more than 80 tons of explosives, hitting 150 targets in 35 minutes, explained the Israeli Defense Forces (IDF).
The IDF said it had "damaged many kilometers of the Hamas 'Metro' network."
At the same time, infantry, artillery, and armored forces deployed along the border fired hundreds of artillery shells and dozens of tank shells at targets in Gaza, army sources said.
As the operation was underway, the IDF created confusion in media, saying they were conducting air and ground assaults in Gaza from where some 2,000 rockets were fired on Israel this week.
GROUND TROOPS
Israeli military spokesman Luitenant Col. Jonathan Conricus initially said, "there are ground troops attacking in Gaza." But he later clarified that Israeli troops had not entered Gaza, suggesting the possibility of artillery fire from the outside.
Earlier the IDF announced it had struck 750 military targets in Gaza using more than 1,000 explosives since Israel's so-called "Operation Guardian of the Walls" began Monday.
The IDF suggested that at least scores of Hamas militants were killed in the operations.
Israeli forces targeted 33 terror tunnels, 160 embedded rocket launchers, four high-rise buildings, and 60 militants, including at least six senior officials of terror group Hamas, officials said.
There was no immediate confirmation from Gaza's Hamas rulers.
Copyright 1999-2022 Worthy News. All rights reserved.
If you are interested in articles produced by Worthy News, please check out our FREE sydication service available to churches or online Christian ministries. To find out more, visit
Worthy Plugins.