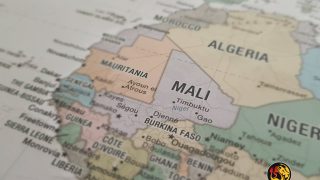 By Stefan J. Bos, Chief International Correspondent Worthy News
(Worthy News) – French President Emmanuel Macron has warned that France will withdraw troops from Mali if political instability there leads to greater Islamist radicalization.
He expressed concern about "greater Islamist influence" after the second coup in nine months in the troubled West African nation.
France has 5,100 troops in the Sahel region to form a front line against Islamist militancy. The troops support forces in Mali, Mauritania, Niger, Burkina Faso, and Chad to battle militants in the Sahel region since 2013.
Macron's withdrawal comments came as West African leaders suspended Mali from their regional bloc Sunday over the coup Ghana's foreign minister confirmed.
The bloc, the Economic Community of West African States, "is worried about the security implications for West Africa because of the continued insecurity brought about by the political upheavals in that country," Foreign Minister Shirley Attorkor Botchwey added in a statement.
However, Coup leader Colonel Assimi Goïta, named transitional president by the constitutional court on Friday, showed no intention of leaving.
He defended the removal of President Bah Ndaw and Prime Minister Moctar Ouane as necessary. He claimed they had failed in their duties and were seeking to sabotage the country's transition.
Soldiers arrested and detained the two men after a cabinet reshuffle that Col Goïta said he was not consulted about.
He also led the coup last August, which saw the elected President Ibrahim Boubacar Keïta forced out of office.
Col Goïta promised that a new prime minister would be appointed within days and that elections would still go ahead next year as planned.
But his comments and behavior have done little to ease tensions with the International community.
Copyright 1999-2022 Worthy News. All rights reserved.
If you are interested in articles produced by Worthy News, please check out our FREE sydication service available to churches or online Christian ministries. To find out more, visit
Worthy Plugins.