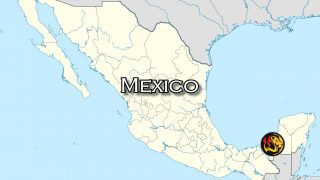 By Stefan J. Bos, Chief International Correspondent Worthy News
(Worthy News) – A cargo truck carrying more than 100 migrants crashed in southern Mexico, killing at least 49 people and injuring nearly five dozen others, authorities reported.
The crash happened in the state of Chiapas near Mexico's border with Guatemala, and the victims appeared to be mostly, if not all, Central American migrants, Mexican officials said.
Witnesses said the truck rolled over and crashed into a pedestrian bridge above a highway in the state.
Luis Manuel Moreno, the head of the Chiapas state civil defense office, said besides those killed, at least 58 people were injured. He added that about 21 injured had severe wounds and were rushed to local hospitals.
Thursday's tragedy underscored concerns about thousands of migrants transiting through Mexico to reach the United States.
Many are hidden in tractor-trailers like the one that crashed on Thursday to avoid checkpoints set by Mexico's national guard and immigration agency.
They are almost always bound for the U.S. border, according to sources familiar with the situation.
The administration of U.S. President Joe Biden administration has come under pressure to halt the number of migrants arriving at the southern U.S. border.
Biden says they are leaning on Mexico to stop those flows.
In recent months, the number of migrant apprehensions in Mexico has risen to record levels. By the end of October, Mexico reportedly apprehended 228,000 migrants in 2021, the highest annual number in history.
However, prominent critics such as former U.S. President Donald J. Trump claim Biden has encouraged massive migration by "weak border defense" and offering compensation.
Copyright 1999-2022 Worthy News. All rights reserved.
If you are interested in articles produced by Worthy News, please check out our FREE sydication service available to churches or online Christian ministries. To find out more, visit
Worthy Plugins.