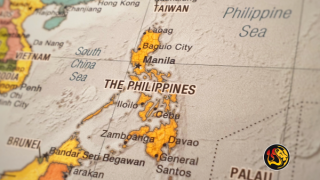 By Stefan J. Bos, Chief International Correspondent Worthy News
SAMBOAN (Worthy News) – An inter-island ferry carrying about 500 passengers faced a severe storm in the Philippines but arrived safely after prayers calmed strong winds, a passenger told Worthy News.
The Lite Ferry 1 vessel was on its way Sunday from Dapitan City in Zamboanga del Norte province to Samboan municipality in Cebu province when Merry-Joy Osman, 33, abruptly awoke.
"The door banged open of our sleeping area, where economic fare passengers stay. Babies started to cry as water came in," recalled Osman. "The captain urged us to remain calm and not to move."
Osman, a devoted Christian who provided Worthy News with eyewitness accounts of the recent super Typhoon Rai, said she prayed and trusted God. "I knew I should not be afraid because He can calm the storm." Osman referred to the Bible's New Testament, which reports how Jesus on a boat with his disciples woke up, rebuked a storm, and told the sea, "Peace! Be still!"
She stressed the roaring sea calmed down after her prayers too. "Miraculously, nobody was injured. There was only a little bit of damage."
It was not clear how severe the damage was for Lite Ferry 1, a 48 meter (158 feet) long and 11 meters (36 feet) breadth vessel built in the year 1969 carrying passengers as well as cars and (motor) cycles.
After a seven-hour journey, the passengers disembarked in Samboan, where residents still struggle with the aftermath of the super Typhoon, which last month killed hundreds of people.
RELIEF GOODS
"Many people in Cebu are still without electricity," added Osman, an aid worker supporting small entrepreneurs and other residents.
After visiting family, the mother-of-one returned to Cebu, where she and other aid workers face challenges. The storm damaged her boarding home, but she suggested that others needed more help. "We are now packing relief goods."
Authorities in several hard-hit provinces have appealed for more supplies of food, water, and shelter materials about two weeks after the storm struck.
The death toll from Typhoon Rai in the Philippines crossed the 400 mark, making it the deadliest storm to hit the Southeast Asian nation in 2021.
Reported deaths had reached 405, primarily due to drowning, fallen trees, and landslides, said Ricardo Jalad, chief of the national disaster agency.
Scores of people remain missing, and nearly 1,150 people were injured, Ricardo explained.
STRONG STORM
More than 530,000 houses were damaged, a third of which were wrecked, while damage to infrastructure and agriculture was estimated at 23.4 billion pesos ($459 million), Jalad said.
The typhoon affected nearly 4.5 million people, including about 500,000 sheltering in evacuation centers, according to government data.
Typhoon Rai, known locally as Typhoon Odette,
made landfall on December 16 with winds of up to 260 kilometers per hour (160 miles per hour) and gusts over 300 kilometers per hour (185 miles per hour).
The storm devastated huge areas in the provinces of Bohol, Cebu, and Surigao del Norte, including the holiday island of Siargao and the Dinagat Islands.
"But, we always remain hopeful, and I trust God that He will turn every situation in something better," said Osman about the future of this mainly Catholic nation of 111 million people.
Copyright 1999-2022 Worthy News. All rights reserved.
If you are interested in articles produced by Worthy News, please check out our FREE sydication service available to churches or online Christian ministries. To find out more, visit
Worthy Plugins.