Thursday, May 21, 2020 |
Tag Cloud
Tags:
Christian
,
EU
,
Euro
,
Europe
,
European Union
,
Iran
,
ISIS
,
Islam
,
News
,
PLO
,
War
,
Worthy News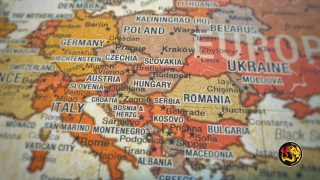 By Stefan J. Bos, Special.Correspondent reporting from Budapest, Hungary
(Worthy News) – An Iranian Christian father and his young son were among hundreds of asylum seekers on their way to more freedom Thursday after Hungary's government closed prison-like transit zones.
Prime Minister Viktor Orbán's chief of staff minister said about 280 asylum-seekers would be moved Thursday to reception centers in the country.
But the official, Gergely Gulyás, warned that, in the future, those seeking asylum in Hungary would have to present their case to Hungarian diplomatic missions in other nations.
Thursday's government decision came a week after the European Union's top court condemned Budapest for holding migrants seeking refuge in "unlawful prison-like" conditions.
The European Court of Justice (ECJ) said circumstances prevailing in the Röszke transit zone "amount to a deprivation of liberty."
A Worthy News investigation also revealed that Hungarian authorities used food and even water deprivation in at least some cases to pressure asylum seekers.
GOVERNMENT DENIAL
Hungary's government has consistently denied wrongdoing and said it disagreed with the ECJ and closure of the southern transit zones. But as an EU member state it would respect the ruling, Gulyás stressed.
Budapest had unsuccessfully argued that zones were like transit areas of airports, where passengers remain if they are changing planes but not entering the country. The reception centers, by contrast, are open or semi-open, activists said.
The European court case was brought by a handful of migrants, including Abouzar Soltani, an Iranian Christian, and his 11-year-old-son Armin.
They had been living in blue containers since late 2018 after asking asylum on political and religious grounds. Hungary threatened to deport Soltani back to Iran, though he could face execution there for converting from Islam to Christianity.
Ahead of his release from some eighteen months in containers, Soltani "thanked God" and his friends in Hungary for supporting him throughout his ordeal, Worthy News learned.
ACTIVISTS PLEASED
The Hungarian Helsinki Committee welcomed Thursday's release of Soltani and his son as well as hundreds of fellow asylum seekers.
The advocacy group had supported them and others throughout their detention. "We have achieved the end of the unlawful torment of hundreds, including many families with children and single women," the group said Thursday.
"Our urgent and important task now is to give legal information to the people freed from their prison and to help them understand what awaits them in the new camps and what rules of behavior they have to abide by in the new locations," the committee added. "We will also help them to get the chance for the authorities to consider their asylum requests finally."
It came as a setback for the fiercely anti-migration Orbán. Under his leadership, Hungary built huge fences protected by razor wire on its southern borders with Serbia and Croatia.
The government also constructed transit zones with container camps on its border with Serbia after a migrant crisis in 2015. In that year, some 400,000 people fleeing war, persecution, and poverty passed through Hungary on their way to Western Europe.
Copyright 1999-2022 Worthy News. All rights reserved.
If you are interested in articles produced by Worthy News, please check out our FREE sydication service available to churches or online Christian ministries. To find out more, visit
Worthy Plugins.