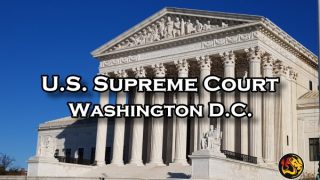 (Worthy News) – President Joe Biden, the constitutional head of the Executive Branch of the federal government, issued an Executive Order today creating an Executive Branch commission to "examine…the membership and size' of the Supreme Court, which heads the Judicial Branch.
The Supreme Court has been limited to 9 members since 1869. In the 1930s, Democrat President Franklin Roosevelt tried to pack the court, pushing for a Democrat-controlled Congress to add one new member to the court for each member over 70 years of age.
That would have created a Supreme Court with 15 members—with the latest six having been nominated by FDR. Even a Democratic Congress declined to do this. [ Source: CNS News (Read More…) ]
Fair Use Notice:This site contains copyrighted material the use of which has not always been specifically authorized by the copyright owner. We are making such material available in our efforts to advance understanding of environmental, political, human rights, economic, democracy, scientific, and social justice issues, etc. We believe this constitutes a 'fair use' of any such copyrighted material as provided for in section 107 of the US Copyright Law. In accordance with Title 17 U.S.C. Section 107, the material on this site is distributed without profit to those who have expressed a prior interest in receiving the included information for research and educational purposes. For more information go to: http://www.law.cornell.edu/uscode/17/107.shtml. If you wish to use copyrighted material from this site for purposes of your own that go beyond 'fair use', you must obtain permission from the copyright owner.