Monday, May 3, 2021 |
Tag Cloud
Tags:
Britain
,
China
,
coronavirus
,
covid-19
,
EU
,
Euro
,
Europe
,
European Union
,
France
,
Germany
,
News
,
oil
,
Police
,
Pope Francis
,
Prayer
,
protests
,
virus
,
Worthy News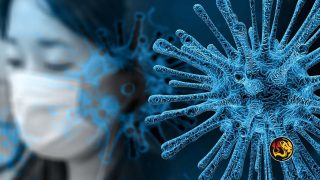 By Stefan J. Bos, Chief International Correspondent Worthy News reporting from Budapest
(Worthy News) – Pope Francis prayed for the end of the pandemic amid mounting social turmoil in Europe about COVID-19 restrictions. His prayers in St. Peter's Basilica and call for "a horizon of hope" came as in Belgium's capital Brussels police said they detained more than 130 people at an "illegal" party.
Those arrested protested against regulations that authorities say are needed to curb the spread of the coronavirus. More than a dozen people, including protesters and police, were injured in the clashes.
Some protesters gathered around a bonfire shouting "Freedom!" and "Where is the party? Here is the party!" Several demonstrators pelted police with objects, and there was fighting among people at the rally. Belgium still has strict rules banning major gatherings and insists on people wearing face masks in large crowds.
The protests by some 2,000 revelers in Brussels, where the European Union has its headquarters, also reflected broader discontent with a year of government-imposed lockdowns and other restrictions to curb the pandemic.
While clashes were underway in Brussels, violent protests were also reported in Germany's capital Berlin and other German cities, and Paris, France. As a result, there were hundreds of arrests and scores of people who sustained injuries in these nations.
Amid mounting public pressure, the European Union and Britain hope to return to a sense of normalcy with more vaccinations and even a proposed international COVID-19 vaccination passport.
The rollout of COVID jabs in EU nations is picking up speed after a slow start. By April 30, about 141 million doses had been administered across the EU, authorities said. In previous months the rollout has been hit by delays in production and distribution and vaccine hesitancy in some countries.
MANY DEATHS
But doctors supporting the vaccination drive point out that the potentially lifesaving jabs came too late for hundreds of thousands of people.
Nearly 700,000 coronavirus-related deaths have been reported across the 30 nations that comprise the EU and the European Economic Area on a population of almost 450 million.
However, despite having one of the highest reported COVID-19 death tolls per capita, EU member Hungary has begun easing COVID-19 restrictions for people with government-issued immunity cards.
Recently Hungarian Prime Minister Viktor Orbán rolled up his sleeve for the non-EU-approved coronavirus vaccine from China. It's one of many vaccines the nation is rolling out to curb a pandemic that authorities say killed more than 27,000 people on a population of nearly 10 million.
As of Saturday, the prime minister and other Hungarians with the immunity plastic cards may enter indoor dining rooms, hotels, theaters, cinemas, spas, gyms, libraries, museums, and other recreational venues. Opening hours for businesses were extended to 11 p.m. and an overnight curfew enforced since November will now start later at midnight.
People who have received at least one vaccine dose and those who have recovered from COVID-19 are eligible for the Hungarian immunity cards. They must be presented at establishments before entry. Business owners can receive heavy fines and even up to one-year imprisonment if they allow non-cardholders to enter.
Some barkeepers say it will be difficult to control and hope Hungary and the rest of Europe will allow more freedoms in the coming weeks.
Copyright 1999-2022 Worthy News. All rights reserved.
If you are interested in articles produced by Worthy News, please check out our FREE sydication service available to churches or online Christian ministries. To find out more, visit
Worthy Plugins.
Tag Cloud
Tags:
Britain
,
China
,
coronavirus
,
covid-19
,
EU
,
Euro
,
Europe
,
European Union
,
France
,
Germany
,
News
,
oil
,
Police
,
Pope Francis
,
Prayer
,
protests
,
virus
,
Worthy News