Tuesday, May 11, 2021 |
Tag Cloud
Tags:
Florida
,
Media
,
Mexico
,
New York Times
,
News
,
PLO
,
Wall Street
,
Washington
,
Worthy News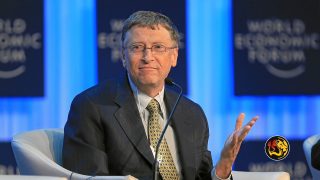 By Stefan J. Bos, Chief International Correspondent Worthy News
(Worthy News) – Melinda Gates's concerns about Bill Gates's ties to convicted sex offender Jeffrey Epstein played a crucial role in their upcoming divorce, people familiar with their thinking say.
News had emerged that Melinda Gates met divorce lawyers since at least 2019 when her husband's links to the late Epstein were first made public.
On Sunday, The Wall Street Journal (WSJ) newspaper reported that one factor in the demise of Gates's 25-year marriage was his spending time with Jeffrey Epstein.
Melinda Gates worried about her husband's relationship with Epstein as far back as 2013, the WSJ quoted a former employee of the
Bill & Melinda Gates Foundation as saying.
In 2019 Bill Gates said about his relationship with Epstein: "I met him. I didn't have any business relationship or friendship with him."
However, at least three of Bill Gates's and Epstein's meetings were held "at Mr. Epstein's palatial Manhattan townhouse" and involved Gates "at least once staying late into the night," The New York Times paper reported in 2019.
UNDERAGE GIRLS
The Times report followed Epstein's reported suicide in the Metropolitan Correctional Center in New York, where he awaited trial on new charges of sex-trafficking underage girls and women.
Gates was among several high-profile figures who faced backlash over ties to Epstein following Epstein's July 2019 arrest. But among the billionaires, politicians, and royals who met with Epstein, Gates was rare in that he began his relationship with the financier after Epstein had already been convicted of sex crimes.
Gates and Epstein reportedly met more than once from 2011 to 2013. The Times reported that Gates rode on Epstein's private jet from New Jersey to Palm Beach, Florida, though Gates had previously denied he'd ever traveled with Epstein in a 2019 interview with the WSJ.
"I didn't go to New Mexico or Florida or Palm Beach or any of that. There were people around him who were saying, hey, if you want to raise money for global health and get more philanthropy, he knows a lot of rich people," Bill Gates told the WSJ.
He stressed that "Every meeting where I was with him were meetings with men. I was never at any parties or anything like that. He never donated any money to anything that I know about."
In separate comments, a spokeswoman of Bill Gates said that he "regrets ever meeting with Epstein and recognizes it was an error in judgment to do so."
ANNOUNCING SPLIT
Her husband's announced regrets about his relationship with Epstein apparently didn't convince Melinda Gates. The couple officially announced their split on social media on May 3. They said: "We no longer believe we can grow together as a couple in this next phase of our lives."
While Melinda Gates officially filed for divorce in the state of Washington last week, there is already a separation contract in place, sources with knowledge about the situation said.
That type of agreement is typical in divorces involving couples of high net worth, according to experts.
Divorces in the U.S. can be messy and expensive. The widely published divorce of Amazon CEO Jeff Bezos and philanthropist and author MacKenzie Scott in 2019, for instance, cost as much as 68 billion dollars.
The Gates' made clear they want to continue philanthropy with the Bill & Melinda Gates Foundation. The billionaire philanthropists and business magnates were one of the wealthiest and most philanthropic couples in the world. After splitting, they will be two of the wealthiest individuals in the world.
Copyright 1999-2022 Worthy News. All rights reserved.
If you are interested in articles produced by Worthy News, please check out our FREE sydication service available to churches or online Christian ministries. To find out more, visit
Worthy Plugins.