Thursday, April 22, 2021 |
Tag Cloud
Tags:
drones
,
Military
,
NATO
,
News
,
PLO
,
Putin
,
Russia
,
UK
,
Ukraine
,
Wall Street
,
War
,
Worthy News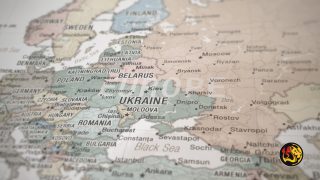 by Karen Faulkner, Worthy News Correspondent
(Worthy News) – Satellite photos show that Russia has deployed warplanes to Crimea and bases near Ukraine, bolstering its readiness for military action and political intimidation, the Wall Street Journal reported Tuesday.
The satellite photos were taken by Maxar Technologies on March 27 and April 16, WSJ reports. The pictures from April 16 show Russia Su-30 warplanes stationed at a base in Crimea, a new development since March 27. The photos also show Russian "airborne troops, motorized rifle and armored units, attack helicopters, smoke generators, reconnaissance drones, jamming equipment and a military hospital" stationed in Crimea.
Experts have noted that Russia's build-up of military power on the Crimean peninsula, and its stationing of Su-34, Su-30, Su-27, Su-25 and Su-24 aircraft in other parts of the region, have bolstered Moscow's ability to coerce Ukraine through intimidation.
"This is not a demonstration. It is preparation for a major offensive," Phillip Karber, president of the Potomac Foundation, told WSJ. "I am not predicting an attack, but within two weeks it will be an option at the Russians' discretion."
However, other experts think the build-up may be an effort to force Ukraine into supplying Crimea with water again: it had stopped the supply after Russia's unilateral and controversial annexation of the peninsula. "We can't rule out that this buildup is possibly a tool of coercion being used by Putin to get Ukraine to open the North Crimean water canal," Glen Howard, president of the Jamestown Foundation told WSJ. "It's a massive amount of military capability, and we don't know what direction the Russians will go."
Meanwhile, Russia's defense minister Sergei Shoigu said in a statement last week that Russia is carrying out military exercises in the region, in response to NATO moves which "threaten Russia." Shoigu also accused Ukraine of creating tensions, WSJ said.
Copyright 1999-2022 Worthy News. All rights reserved.
If you are interested in articles produced by Worthy News, please check out our FREE sydication service available to churches or online Christian ministries. To find out more, visit
Worthy Plugins.