Monday, July 19, 2021 |
Tag Cloud
Tags:
Bible
,
Christian
,
church
,
Facebook
,
internet
,
News
,
technology
,
UK
,
Worthy News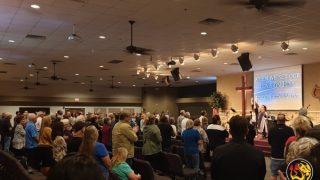 by Karen Faulkner, Worthy News Correspondent
(Worthy News) – A new UK survey has shown that 43% of pastors reported an increase in attendance after their church services went online during the pandemic, Christian Today reports. Carried out by the Bible Society on behalf of the UK's Ecclesiastical Insurance company, the poll surveyed 1,000 church leaders in May this year.
The survey found that most churches used the internet to try and maintain congregational life once the pandemic started in March 2020, Christian Today said. An overwhelming majority of 93% used Zoom for public events and services; 60% used Facebook, 5% used YouTube and 1% used Microsoft Teams.
According to the survey, nearly two-thirds, 62%, of churches planned to continue streaming services and events once in-person activities had resumed, Christian Today reports. The survey found that 56% of churches had even purchased new technology to facilitate online ministry.
In a statement Michael Angell, Ecclesiastical's church operations director said: "With restrictions preventing physical meetings and many experiencing isolation, either through shielding at home or lockdown, these new means of keeping in touch with congregations have proved hugely popular.
"Even though many churches are now open again, it is encouraging to see that they plan to continue with these new channels and in doing so welcome their audiences, both new and old, back into their churches," Angell added.
Copyright 1999-2022 Worthy News. All rights reserved.
If you are interested in articles produced by Worthy News, please check out our FREE sydication service available to churches or online Christian ministries. To find out more, visit
Worthy Plugins.